Search and Rescue
The roles of rescue of The Icelandic Coast Guard
Some of the main roles of the Icelandic Coast Guard are to rescue people from danger at sea or on land, to provide immediate medical transport and to assist boats and ships within the country's jurisdiction.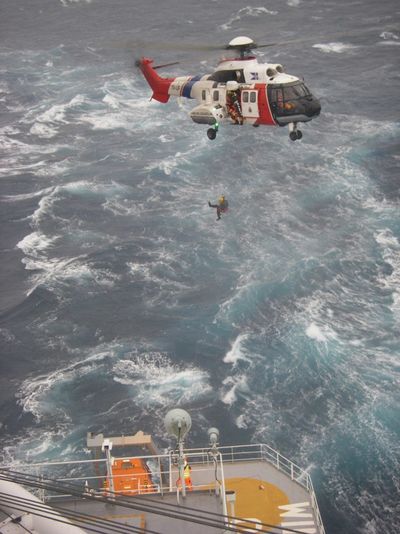 The ICG assists remotely inhabited places and districts when traditional communication systems are disrupted, for example in the case of a natural disaster. The ICG also assists in civil protection matters, general law enforcement, medical service and customs and lighthouse services.
At the JRCC-Iceland / ICG operations centre which is a combined Joint Rescue Coordination Centre and a single point of contact for all maritime related information, there is a 24-hour watch in order to react to emergency calls as quickly as possible.
At the centre all information on maritime traffic is collected and used jointly for Safety, Security, Fisheries Enforcement and general policing of the ocean. It is necessary for the ICG to maintain thorough information on the location of ships and boats.
Maritime rescue and assistance to ships in difficulty or that are stranded are executed in various ways. When it is a question of saving lives, then a helicopter is immediately sent to perform a rescue operation. It is often the case that many people and assets are involved in rescue operations like this, including helicopters, an airplane and ICG patrol vessels, foreign navies, coast guards, nearby ships, rescue teams, fire departments and police.
The Icelandic Coast Guard operates two vessels Tyr and Ægir. A new and powerful vessel Þór was taken into service in October 2011. The Icelandic Coast Guard has also the vessel Baldur that is used for hydrographic surveying during the summer time.

The Coast Guard also operates rescue helicopters and the maritime surveillance aircraft TF-SIF. The aircraft is able to operate from short airfields, and at maximum weights and with all civil reserve factors included, requires less than a 1,300 m (4,279 ft) runway for take-off and landing over standard (ISA) conditions. The primary objectives for the aircraft system are defined as: Environmental protection – combating and preventing pollution at sea. Protection against accidents – preventative surveillance and participation in rescue at sea. Transport supervision – marine traffic and safety at sea. Food policy – fishing control. Judicial system – police activity, including border controls for persons at sea. Tax, customs duty and other charges – customs check and border controls for goods at sea.

The ICG air assets are;

The aircraft TF-SIF.
TF-SIF was arrived new in 2009. Used for search and rescue operations, patrol, ambulance and ice-patrol.
TF-LIF
Aerospatiale Super Puma AS-332L1. CG 29 Crew: 2 pilots, 1 rescueman, 1 winch operator, 1 doctor. Passangers: Max 20.

TF-GNA.
Aerospatiale Super Puma AS-332L1. CG 33 Crew: 2 pilots, 1 rescueman, 1 winch operator, 1 doctor. Passangers: Max


The Coast Guard is responsible for Joint rescue operations on the ocean area around Iceland
The Joint Rescue Co-ordination Centre "JRCC" at its headquarters in Reykjavík.
The centre is a combined;
Communication centre for the Coast Guard vehicles
Fisheries/Vessel Monitoring Centre
Equipped with variety of equipment for communication including satellite stations.
Configured to be able to operate independent from domestic sources of power and communication.
 A comprehensive computer network is used for communication, tracking, data collection and calculation of SAR areas.
Photo Arni Saeberg and Baldur Sveinsson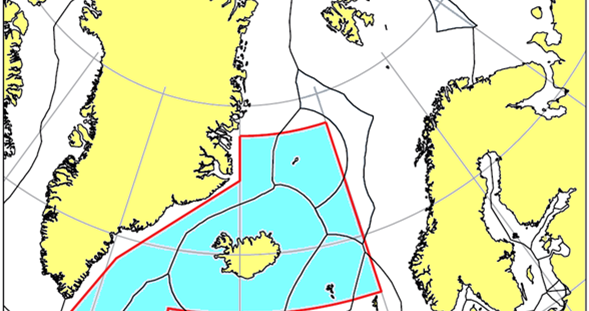 The Icelandic Search and Rescue Region is demarcated by the following coordinates:

73° 00' N, 20°00' W
73° 00' N, 00° 00'W
61° 00' N, 00° 00'W
61° 00' N, 30°00' V
58° 30' N, 30°00'W
58° 30' N, 43°00'W
63° 30' N, 39°00'W
70° 00' N, 20°00'W
73° 00' N, 20°00'W