Icelandic Coast Guard - Always Prepared
The motto of the ICG, "Always Prepared", broadly points to the activities of the Icelandic Coast Guard, both for the present and in the future. The slogan applies to all the ICG's duties, whether it is search and rescue at sea or on land, law enforcement, hydrographic survey, or other tasks with which the personnel of the ICG are entrusted. The core meaning behind this motto is to be prepared for everything - at all times.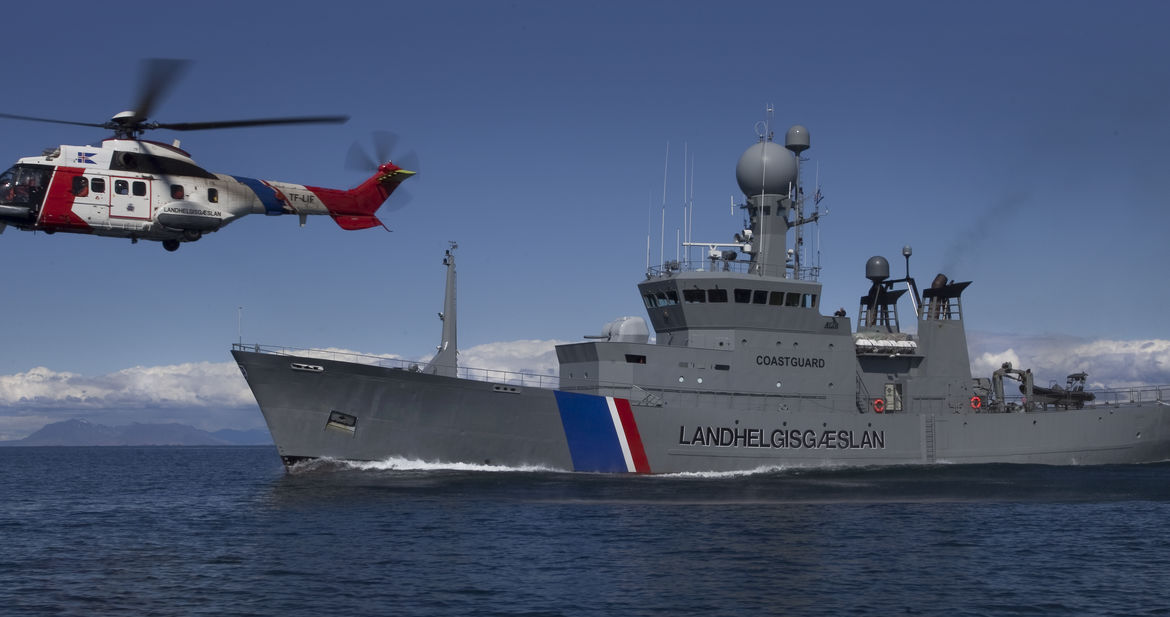 The ICG is an established organisation whose primary responsibilities are law enforcement and patrol of the sea around Iceland, the responsibility for and management of maritime search and rescue, assistance in rescue operations on land, airborne ambulance service, hydrographic survey, nautical charting and bomb disposal. Every day, personnel of the ICG deal with very varied tasks, and no two days are the same.
The responsibilities are more or less the same today as they were in the beginning, although the number of tasks has increased considerably. The main changes involve participation in multinational co-operation efforts regarding the monitoring of fisheries in the ocean, defence against international terrorism, as well as applying a great deal more emphasis on pollution control at sea.
The ICG's personnel is now around two hundred, belonging to 15 different labour unions.
The Icelandic Coast Guard operates three vessels Þór, Tyr and Ægir. New and powerful vessel Þór was taken into service in 2011.The Icelandic Coast Guard has also the vessel Baldur that is used for hydrographic surveying during the summer time.

The Coast Guard operates rescue helicopters and the maritime surveillance aircraft TF-SIF. The aircraft is able to operate from short airfields, and at maximum weights and with all civil reserve factors included, requires less than a 1,300 m (4,279 ft) runway for take-off and landing over standard (ISA) conditions. The primary objectives for the aircraft system are defined as: Environmental protection – combating and preventing pollution at sea. Protection against accidents – preventative surveillance and participation in rescue at sea. Transport supervision – marine traffic and safety at sea. Food policy – fishing control. Judicial system – police activity, including border controls for persons at sea. Tax, customs duty and other charges – customs check and border controls for goods at sea.
The Minister of Justice undertakes superior administration of the entire activities of the Coast Guard and will issue necessary reglulations or instructions relating to the general administration of its various sectors.
The main tasks of the Coast Guard are based on the need for a general policing of the ocean
The missions are listed in Article 1., 4 and 5 of the Act N° 52 of 2006, respecting the Icelandic Coast Guard.