Search and Rescue (SAR)
The Icelandic Coast Guard (ICG) is responsible for the coordination of all SAR operations within the Icelandic economic zone and the Icelandic Search and Rescue Region (SRR), Iceland's international area of responsibility according to the International Civil Aviation Organization (ICAO) and the International Maritime Organization (IMO).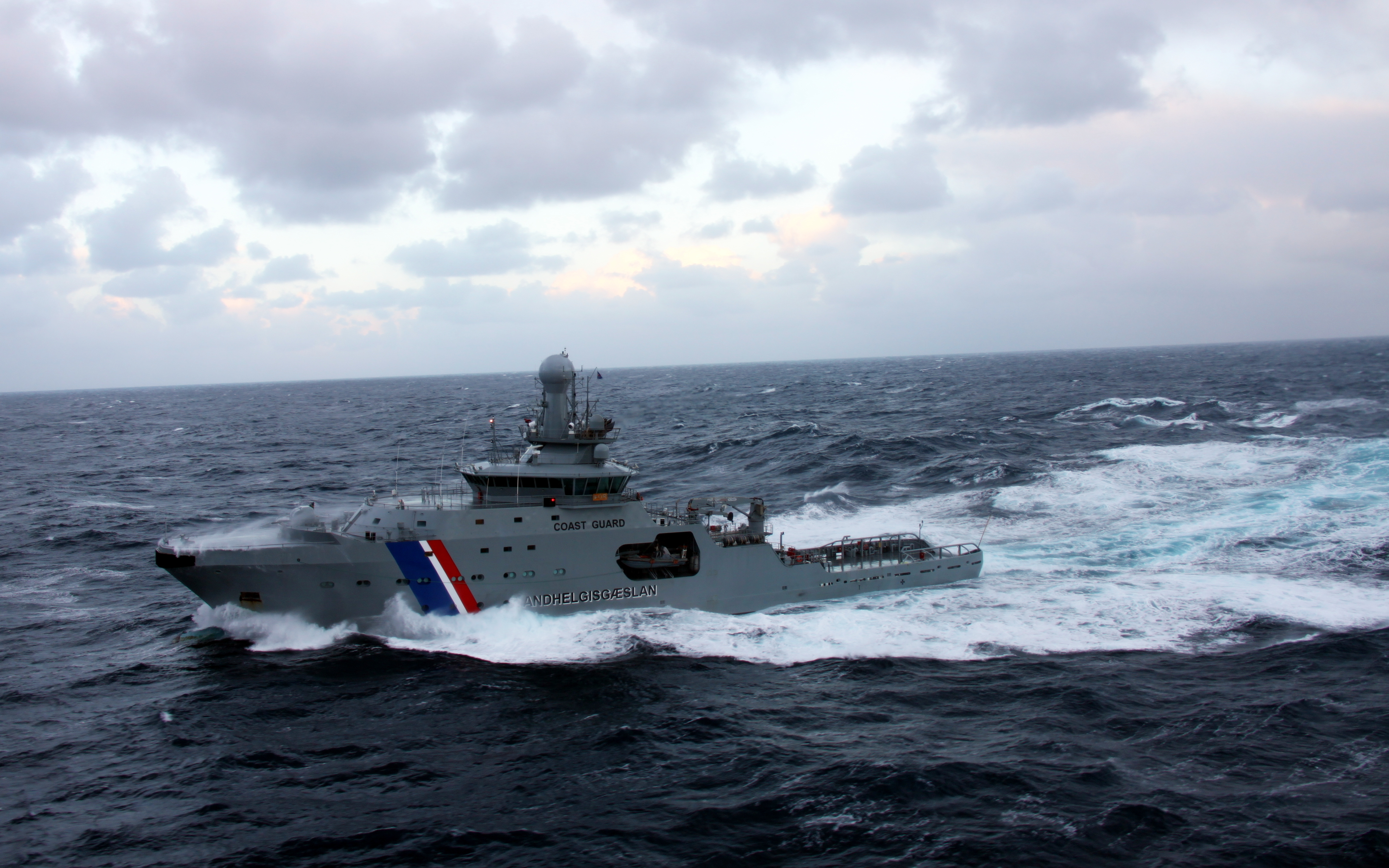 Iceland's SRR area is around 1.9 million square kilometres, which is more than twice as large as its economic zone.
As part of this function, the ICG operates the Icelandic Joint Rescue Coordination Centre – JRCC Iceland, which is a combined centre and a single point of contact for all the ICG's activities. There is a 24-hour watch in order to react to emergency calls as quickly as possible.
At the centre all information on maritime traffic is collected and used jointly for Safety, Security, Fisheries Enforcement and general policing of the ocean. It is necessary for the ICG to maintain thorough information on the location of ships and boats.
It is often the case that many people and assets are involved in rescue operations, including helicopters, aircraft and ICG patrol vessels, foreign navies, coast guards, nearby ships, rescue teams, fire departments and police.
Operations
The operations division handles organization of supervision, law enforcement and emergency services. The division works closely with other facets of the ICG and consults on the preparation of sailing plans, flight schedules and air policing to ensure that equipment and manpower is always available when needed. The operations division is kept informed by the Coast Guard's command centre in Reykjavík Reykjavík regarding current and future projects, circumstances in the EEZ and the state of equipment and manpower, including law enforcement and rescue equipment of neighbouring countries, available when needed, based on by-lateral aggreements.
Maritime division
The tasks of the ICG at sea are numerous and important. They include extensive law enforcement and surveillance regarding vessels, fishing, pollution, and all issues regarding the sea. In addition, crewmembers of the patrol vessels regularly board vessels to monitor fishing methods, catches, acceptable crew numbers, and safety equipment. To fulfil its duties at sea, the ICG relies on first class equipment. Here, the patrol ships play a key role, as they are well-equipped for law enforcement, rescue, and fire-fighting work. They have considerable towing capabilities and form core support in aiding and rescuing larger vessels in the waters around Iceland. According to Icelandic law, patrol vessels are expected to provide remote areas with services as well as entire communities when overland transport fails as a result of natural disasters. The patrol vessels were designed and constructed with use in the Nordic region in mind. The patrol vessel Þór, moreover, is specially equipped for cleaning up oil spills at sea and is the only vessel with such capability in the area between Norway and Canada.
The Icelandic Coast Guard assets
ICG operates three vessels Þór, Freyja and Baldur. A powerful vessel Thor was taken into service in October 2011. The Icelandic Coast Guard has also the vessel Baldur that is used for hydrographic surveying and surveillance during the summer time.
Þór
The patrol vessel Þór is the flagship of the ICG and is one of the most advanced vessels of its type. With the arrival of the vessel in 2011, a huge step was taken in mariner safety in, and the surveillance of Icelandic waters; whether in the field of resource protection, fisheries monitoring, law enforcement, search or rescue. In addition, the vessel can provide support responses and defences against the threat of terrorism as well as being useful for co-operating with police special forces and customs. The vessel, moreover, is equipped with powerful pollution prevention equipment. Þór also has considerable towing capabilities. The pivot point of the towing cable is in front of the steering and propellers, making it easy to change course even if towing a much larger and heavier vessel. The patrol vessel can be used as a mobile control centre during emergencies and can link the rescue teams to the co-ordination station in Skógarhlíð even if all normal telecommunications are unavailable, e.g., due to natural disasters or disruptions. It is especially designed with the needs of the Icelandic society and future challenges in the North Atlantic in mind. This makes Þór a powerful link in the chain of search and rescue entities in this unforgiving ocean environment.
Freyja
The patrol vessel Freyja arrived in Iceland late in the year 2021, replacing the patrol vessel Týr, which had performed its duty off the coast of Iceland since 1975. Freyja is to a large extent comparable to the patrol vessel Þór in terms of size and facilities, but has greater towing capacity. Freyja has therefore been compared to a solid workhorse. The Coast Guard and the Ministry of Justice jointly decided that the home port of the patrol ship Freyja would be Siglufjörður in northern Iceland. With increased maritime traffic in the Arctic, the number of large cargo and oil tankers along the east and north coasts of Iceland increases. A growing number of cruise ship traffic is also to be expected, and with it threats posed to the ecosystem in the event of danger. In these events, every minute is critical. With Þór in Reykjavík and Freyja in Siglufjörður, the Coast Guard's response capacity around the country has been increased and ensuring the safety of seafarers and resources at sea. With the arrival of Freyja, the Coast Guard has two very powerful patrol vessels in its fleet, specially equipped to carry out law enforcement, search and rescue in the demanding sea around Iceland.
Baldur
The Hydrographic survey and patrol vessel Baldur has been operated by the ICG since 1991. The vessel has proven to be excellent for near shore hydrographic surveying, surveillance, law enforcement, training, and various other tasks that the ICG undertakes. Baldur is especially equipped for hydrographic surveying for nautical charting. Among other things, the vessel is equipped with a multi-beam echo sounder and positioning system to meet international requirements for depth surveying for nautical chart production. Baldur also carries a small boat that is equipped with a depth gauge for surveying in shallow water and areas close to the shore.
Aeronautical department
Search and rescue capabilities of the ICG in the waters around Iceland are based on three main foundations: The patrol vessels and control centre discussed earlier as well as the aircraft of the ICG. The airplane and helicopters are, thereby, an essential link in the chain that forms the response capabilities of ICG in the Icelandic search and rescue area, an area encompassing 1.9 million square kilometres. ICG helicopters can undertake search, rescue and medevac flights within the Icelandic EEZ. They are especially equipped for rescue operations and are, moreover, involved in search, rescue and medevac flights on land.
The surveillance and rescue airplane is a key unit with regard to searching for those in need, particularly at the outer limits of the EEZ, just as outside it but within the search and rescue area. It is equipped with state-of-the-art radar, a thermal imager and can also be used to drop lifeboats to those in need. This is particularly important for the area outside the flying range of the helicopters, as such search and rescue efforts can only be undertaken by aircraft and ships.
Helicopter fleet
The Coast Guard's helicopter fleet was completely renewed between 2019 and 2021 and has never been better equipped. Three helicopters form the helicopter fleet, all of which are Airbus Super Puma H225s and were given the identification letters TF-GRO, TF-EIR and TF-GNA.

These helicopters outmatch the older model with more carrying capacity, good de-icing equipment and excellent autopilot system that makes it easier for pilots to fly in difficult conditions. The helicopters also have a thermal camera, searchlights, a high-performance cargo hook as well as carrying external floats that inflate in the event of an emergency landing at sea. Each helicopter can carry up to 19 passengers and five people form a traditional crew. Aircraft commander, co-pilot, navigator who is also a rescue specialist to be lowered by winch, an aviation mechanic who is also a winch operator and a doctor.
TF-GNA
Airbus Super Puma H225. Crew: 2 pilots, 1 rescueman, 1 hoist operator, 1 doctor. Passengers: Max 19
TF-EIR
Airbus Super Puma H225. Crew: 2 pilots, 1 rescueman, 1 hoist operator, 1 doctor. Passengers: Max 19
TF-GRO

Airbus Super Puma H225. Crew: 2 pilots, 1 rescueman, 1 hoist operator, 1 doctor. Passengers: Max 19
TF-SIF
With the arrival of the surveillance and rescue aircraft TF-SIF in the summer of 2009, the surveillance capability of the ICG increased substantially. The plane is specially designed for search, rescue, surveillance and medevac missions in the North Atlantic. It took approximately one year to equip the aircraft specially for the tasks that it is intended to carry out.
The plane, a Dash 8 Q300, has a range of approximately 2100 nautical miles plus 45 minutes of back-up fuel. Aircraft of this type are known for being able to operate on short runways and to withstand considerable crosswinds, or around 36 knots. In its conventional configuration there are seats for 12 to 14 passengers although it can be changed to a 22 person aircraft on short notice. The aircraft can accommodate 2 to 3 patients on stretchers and there are also good resting and cooking facilities for the crew on board.

The Coast Guard is responsible for Joint rescue operations on the ocean area around Iceland
The Joint Rescue Co-ordination Centre "JRCC" at its headquarters in Reykjavík.
The centre is a combined;
Communication centre for the Coast Guard vehicles
"JRCC"
Fisheries/Vessel Monitoring Centre
Equipped with variety of equipment for communication including satellite stations.
Configured to be able to operate independent from domestic sources of power and communication.
A comprehensive computer network is used for communication, tracking, data collection and calculation of SAR areas.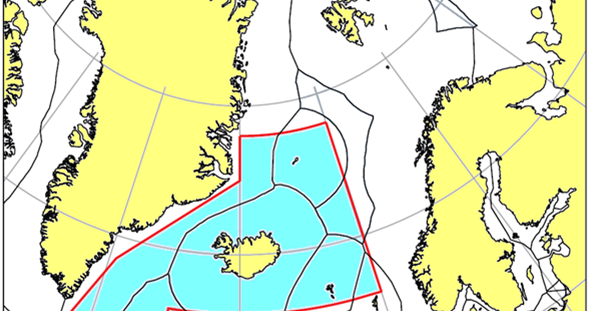 The Icelandic Search and Rescue Region is demarcated by the following coordinates:

73° 00' N, 20°00' W
73° 00' N, 00° 00'W
61° 00' N, 00° 00'W
61° 00' N, 30°00' V
58° 30' N, 30°00'W
58° 30' N, 43°00'W
63° 30' N, 39°00'W
70° 00' N, 20°00'W
73° 00' N, 20°00'W